Every once in a while, there's a new hot spot in B-Town, currently, District 1 has that position filled. Located in Janabiyah and invested in by Gulf Holding Company (GHC), it's a brand new commercial area with restaurants, salons, clothing stores, furniture shops, and just about everything you could think of.
The thing about trendy places, is that you might get too excited to decide where exactly to go. That's why we made things easier for you and compiled you a list of 5 MUST visit hot spots within the hot spot itself. Here goes!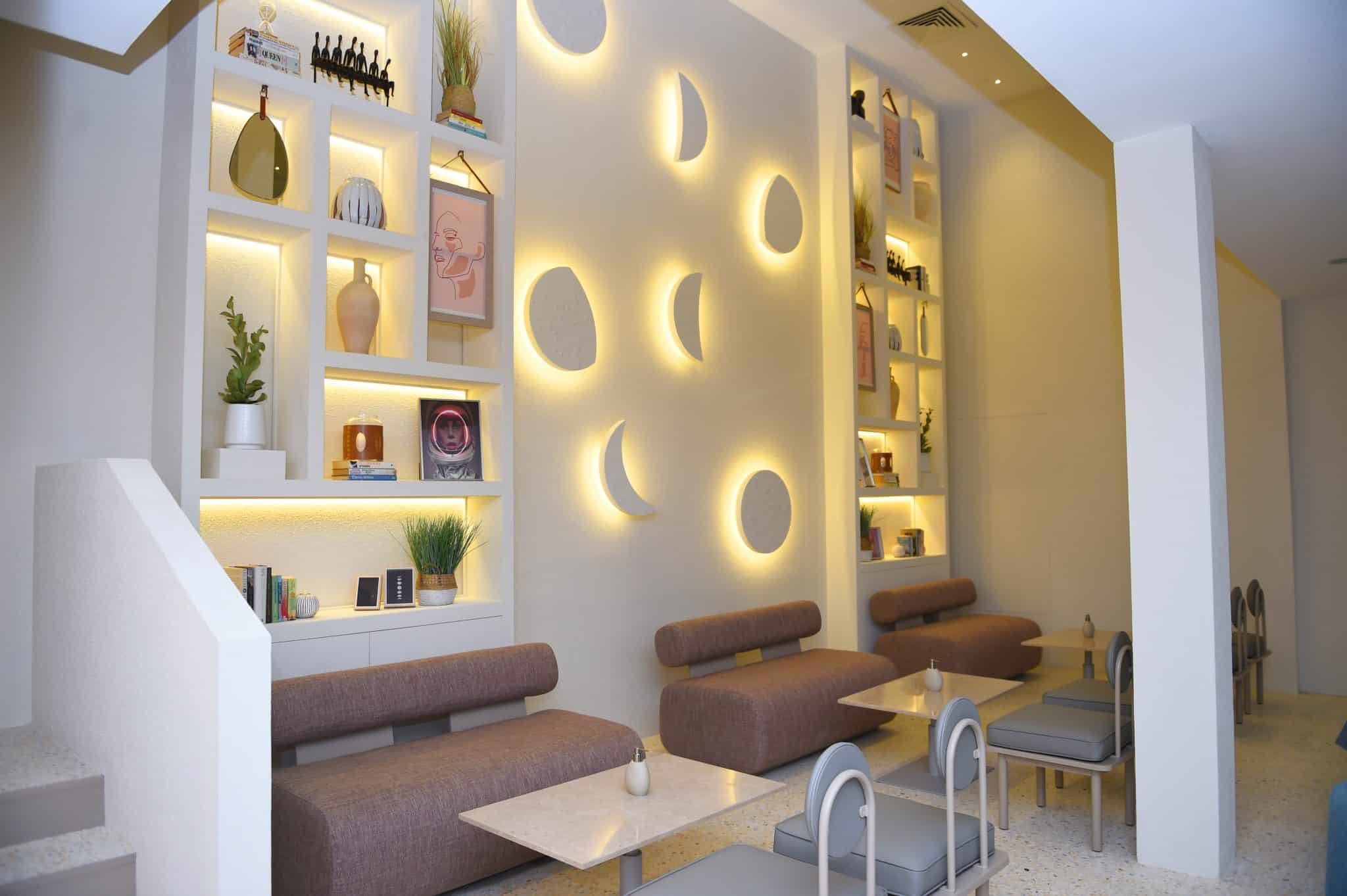 We're starting with our personal favorite, La Luna. Get ready to feel like you're on the surface of the moon, except you can actually breathe and take selfies in a cute setting while also eating good food, of course.
La Luna is Bahrain Airports Service's latest investment, and is basically a cafe that's set to look like its namesake: the moon. Their entire interior design is all about the moon (and its phases), you'll love exploring it as you walk around. Fun fact: It was actually inspired by Frank Sinatra's hit song 'Fly me to the moon'!
This one goes out to all the vegetarians and vegans out here in B-Town, you'll love this restaurant! Apart from their insanely funny memes on Instagram, Vedge are quite unique with their menu items.
Say goodbye to your struggle of going to a restaurant and having a basic salad as the vegetarian (or vegan) option, and welcome this heaven of alternatives – from mango manchurian, to seitan tikka (yes, TIKKA), to even vegan philly sandwiches.
If you're currently on a keto diet and tired of ordering eggs everytime you go out, this spot might cheer you up a little bit. Ketone is actually Bahrain's very first keto-specialized restaurant.
Enjoy some keto and gluten-free breakfast, smoothies, cakes, pizzas, breads, and more. You're welcome. Keep up the good work.
Warrior One is both a yoga studio and cafe — the latter is downstairs, while the former is upstairs; providing the perfect balance between the mind and body.
Don't worry if you're not a pro in yoga just yet, as they offer classes for all levels, of different types of yoga. As for the cafe, you can go ahead and test their drinks, as their menu mostly consists of juices, smoothies, coffee, teas, and protein shakes.
You're probably already familiar with this awesome joint, as they mostly participate in food festivals and are quite popular. You can now enjoy some yummy slow-cooked, open-flame salmon right in Janabiyah, without needing to wait for a food festival to happen!
We love the fact that you can have your salmon in just about every way there is – in a salad, with rice, with mashed potatoes, and of course, in a sandwich. Try a different combo every once in a while!
Liked our picks? Make sure you tag us on social media in your next post visiting District 1 on Instagram, Facebook, Twitter, and LinkedIn!