One cannot deny all the challenges the young and ambitious are facing in the MENA region. The political turmoil being hefty causing many people to suffer. And the oil price drop that has affected the macroeconomics trends. Add to that some of the bureaucratic systems, poor infrastructures, and high unemployment rates that are crippling the growth of affiliated economies.
But although all this is happening in MENA, we must remind ourselves that they are not the only things happening. So what else is happening regarding the entrepreneurship side?
During the past five years, the new and fast-growing entrepreneurship has been on the rise in acceleration. More support to the ecosystem is being provided by many local and global institutions; governmental mainly and some private entities. Which is giving positive momentum in the process for the tech and other startups.
According to Wamda, the online spending in MENA has grown from $9B in 2012 to $15B in 2015. These numbers keep expediting in our region with the growing adoption of technology.
MIT EF Pan-Arab clearly states that in the past four years the competition has achieved great success receiving over 1000 applications from 17 Arab countries, yearly.
These and other latest information and statistics are encouraging; if you are, or thinking of becoming, an entrepreneur in the region.
Below are the three main reasons I feel should be highlighted for why we should all be optimistic about MENA's entrepreneurship.
1. Untapped Opportunities
We can all agree that the MENA region is missing many services, especially in the tech field. Entrepreneurs have the early movers' advantage at the moment in many fields. If we are thinking in Porter's 5, Rivalry among existing competitors can be the least affecting factor. At least, for the time being for many tech startups here.

According to the founder & CEO of Asafeer Education Technologies, Amr Abu-Hmeidan "There is big potential in the region, especially for the Arabic content. Our business pays the bills for many talented authors, illustrators and teachers around the Arab world. While we're still bootstrapping the startup; we are already witnessing a growth of up to 30% MoM in readership. Our readers spent about 50K hours just last month reading over a million stories within that period. These are very good numbers with organic marketing".
AND WHILE ENTREPRENEURS IN MORE MATURE MARKETS OPERATE AT THE FRINGES OF THEIR ECONOMIES, THE MENA ENTREPRENEURS HAVE HIGHER SUCCESS CHANCES AS THEY OPERATE CLOSER TO THE CORE.
'Although big business is vital for economic health and prosperity, a strong cadre of SMIs and SMEs is also essential to ensure a diverse economy and to provide the required support to big business and the community'. Ref (9)
With gaps in the infrastructures and social services, Entrepreneurs in MENA have more opportunities in strengthening their national economies. Achieving success, while also helping their governments in achieving better living standards for their communities.
Abu-Hmeidan also explains that "As entrepreneurs in MENA, we don't need to go through the same learning phase as Silicon Valley entrepreneurs did before us. We have the advantage to use their findings and advance faster to results"
So they have a shorter cut to succeeding in their businesses, thanks to the already tested business models and pivoting trials in the developed countries. With proper considerations of the differences in markets and cultures, they can have better understanding of what challenges they might face.
2. Growing Funds and Ecosystem
According to MENAscope, MENA raised about $1B in available venture capital as of 2015. Over 12 funds have announced $50M+ funds just last year.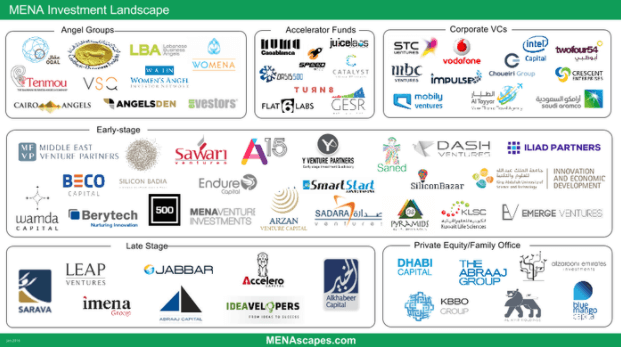 The leading global- silicon valley based- venture capital seed fund and startup accelerator 500 Startups, has invested about $2M in 17 startups in the years 2012-2014. But have allocated a another $30M to be invested in MENA startups starting 2015. This clearly shows the expected potential in the region from an outsider perspective.
And following the funding trend, we see the proliferation of incubators and accelerators. Below are latest findings from MENAscope.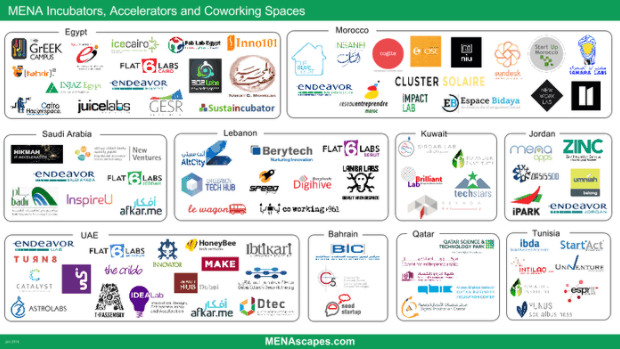 More details about VC funding, angel investors, incubators, competitions, and more for MENA can be found on the MENA Private Equity Association website.
3. Entrepreneurship can be independent of the macroeconomic trends
The technology boom in the past decades has helped many developed economies become Innovation-driven. As compared to efficiency-driven, and factor-driven economies; the latter still existing mostly in the developing regions.
In the latest Global Report 2015/2016 for GEM (Global Entrepreneurship Monitor), it is stated that innovation-driven economies provide a better ecosystem for startups and help them avoid failure and discontinuations.
We can easily conclude that the blocks we build today in the startup field will help future ones in succeeding.
THE MORE TECH STARTUPS WE HAVE, THE MORE INDEPENDENT WE BECOME FROM OUR OWN MACROECONOMIC CHALLENGES AND OTHER RESTRICTING FACTORS. TO ANALOGIZE, IMAGINE A HIERARCHICAL DOMINO EFFECT.
Moreover, in the Entrepreneurship, Economic Conditions, and the Great Recession IZA report, it argues that in recessions, and when unemployment rises, people tend to start businesses. Which in turn reflects in growth in the SME ecosystem. These new SMEs will not grow as fast as we expect from startups, but once the recession starts diminishing , they will be more than ready to ride the wave of economic growth, adding momentum for sure.
So recessions can in fact help the small and medium much more than the large corporations.
After all, we can see the perspective of Napoleon Hill when he said 'Opportunity often comes disguised in the form of misfortune, or temporary defeat.'
References
Seeking Untapped Market, Forbes Article

http://www.forbes.com/sites/elizabethmacbride/2016/01/18/seeking-untapped-market-nearly-100-investment-funds-emerge-in-middle-east-tech-scene/2/#5679815df16e

Point 1 : Early movers' advantage

http://www.youtheconomicopportunities.org/sites/default/files/uploads/resource/The_Distinctiveness_of_Entrepreneurship_in_Developing_Countries.pdf

MIT EF Pan Arab Data

http://www.mitef.org/s/1314/interior-2-col.aspx?sid=1314&gid=5&pgid=810

Top 20 VCs in MENA

http://www.menapea.com/vcdirectory.php

Entrepreneurship, Economic Conditions, and the Great Recession

IZA report

http://ftp.iza.org/dp5725.pdf

Wamda Statistics

https://www.wamda.com/2013/03/10-stats-you-should-know-about-e-commerce-in-the-middle-east

500 startups data 1

http://500.co/global-series-middle-east/

500 startup data 2

https://www.bloomberg.com/news/articles/2015-12-03/a-venture-capitalist-abroad-500-startups-creates-middle-east-tech-fund

GEM 2015/16 GLOBAL REPORT file:///Users/maisjauhary/Downloads/gem-2015-2016-global-report-110416-1460370041.pdf
This is also available in Arabic if you'd like.