Press Release.
The podcast scene in the MENA region took a significant leap at the beginning of the pandemic, as more people were locked home with nothing but their close family and internet to entertain them. This consumer behavior was significantly reflected in Anghami's data, where podcasts came to educate, entertain, and challenge users, showing them a unique and different audio experience that goes beyond the music experience they were used to.
Global podcast listenership has been growing 20-40% annually for the past 6 years. And MENA is fast-picking up on these trends: there are already 5.1m podcast listeners in KSA and 1.3m in the UAE listening to an average of 5-7 hours of podcasts a week. In an increasingly cluttered digital world of swiping past the majority of content we see, podcasts are a much-needed refuge into the longform with episode completion rates of 80-90%.
One of the struggles that audiences in MENA faced when they started consuming podcasts was the lack of original Arabic content, The majority of podcasts are in foreign languages, making them unrelatable to Arabic-speaking listeners.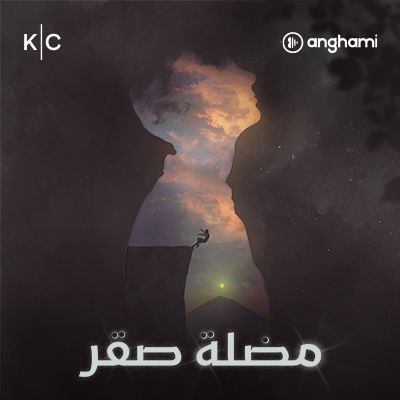 Launched in 2015, Kerning Cultures is one of the region's first podcast networks, building the podcast space with chart-topping, award-winning shows in both Arabic and English.
Given that Kerning Cultures Network's biggest listening audience is in KSA, their new show, Saqr's Eclipse, celebrates Saudi culture through its cast, storyline, and setting. Saqr's Eclipse is an 8-episode fiction series following Faisal Saqr, a Saudi travel influencer who adventures on a trip of a lifetime into the dangerous desert of the Empty Quarter in order to secretly follow the steps of his long-lost father. Written and directed by Jaylan Auf, Saqr's Eclipse features actors such as Ammar Sabban, Ossama Alqess, Tara Emad, Ghada Abboud, and more.
Anghami and Kerning Cultures Network team up for this first-of-its-kind thriller podcast reminiscent of a binge worthy TV show – only it's for your ears. Fiction podcasts have the ability to capture your imagination in ways that no other medium can.
The show will be available for early release exclusively on Anghami.
"Saqr's Eclipse is a type of show that has never been done before in the Arab world. As we are pioneers of the regional podcasting industry, we couldn't have imagined a better ally than the pioneer of the regional audio streaming industry: Anghami. Our strength as storytellers is amplified by Anghami's dedication to Arab listeners. It's important to us that this project is brought to life by a grassroots, regional player." – Hebah Fisher, CEO of Kerning Cultures Network points out that this relationship came to life because of the common vision that the two companies share, aiming to support the content creation in the region.
Being from the region, Anghami always believed in giving back, and content creation has always been one of the main pillars that the company has focused on. As the podcast industry keeps on growing in the region, we believe that podcasts like Saqr's Eclipse will set a new standard for podcast shows, introducing the audience in the Middle East to content that celebrates their society and culture.