Aisha Jewels is a Bahraini jewelry design company founded by Miss Aisha Abdulmalik, which launched in 2014. Since then, it has continued to grow and expand throughout the GCC region as a result of her talent in drawing to create high-end jewelry characterized by its exquisite and charming design, which are formulated according to the company's precise standards and by the finest craftsmen in both the Kingdom of Bahrain and in the Italian city of Milan.
Following her participation in Tamkeen's Mashroo3i competition in 2013-2014, Aisha chose to pave her own way into the entrepreneurial world, by setting up her company with an operating capital that she had deducted from her personal savings of BD 1,500. As a result of following a clear methodology, based on recent strategic studies of the market, she was able to make a prominent position in a market where she faced fierce competition from local and international companies.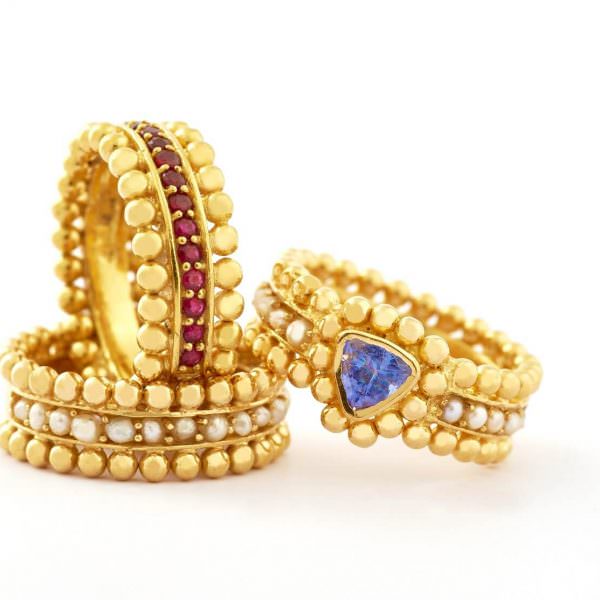 On the occasion of her winning the 2017 Bahrain Award for Entrepreneurship for the Micro-Enterprise category, Miss. Aisha Abdulmalik, owner of Aisha Jewels said: "I would like to thank His Royal Highness Prince Salman bin Hamad Al Khalifa the Crown Prince, Deputy Supreme Commander and Chairman of the Economic Development Board, who I had the honor of meeting when being awarded, for embracing emerging young talent and start-ups by providing full support to overcome the difficulties they might face. It is very nice to be recognized and supported by your own country, as well as being admired for your hard work."
"What distinguishes Aisha Jewels is that we focus on the exclusive combination of 22 karat gold and 18K gold with diamonds through our innovative modern designs, as well as accepting special orders made on request. I am pleased to announce that we will be launching our own studio after receiving clearance of certain legal procedures. This step will help us to further expand in the future, not only within the region but on an international level by putting us on the map. We have received online orders from several countries including the United Kingdom, Romania and the United States of America," she added.
"Although it is difficult to balance the challenges of managing a growing start-up company, and also meeting university life requirements at the same time, I have succeeded in time management as I have been able to balance every aspect of my life in the right manner, with help from the university and support from family members. When the scope of our work began to expand, the team grew and I managed to delegate some tasks to them while I continued to focus on technical and managerial matters such as the quality and design. I would advise those who wish to start their own project to have patience, determination and the willpower and to take advantage of the support provided by companies that encourage entrepreneurial spirit within the Kingdom to make their dreams into a reality," concluded Aisha.
Aisha Jewels is proud to be one of the most innovative companies within its field in terms of providing designs, marketing, sales and creative management strategies. It has also been rated as the most distinguished business locally as part of the first GCC Young Entrepreneurs Council held in 2016. Aisha has excelled at showcasing her designs as an independent designer at a number of internationally recognized exhibitions in Bahrain and Dubai.
The Bahrain Award for Entrepreneurship, under the directives of His Royal Highness Prince Salman bin Hamad Al Khalifa the Crown Prince, Deputy Supreme Commander and Chairman of the Economic Development Board, aims to create an incubating environment that develops and encourages entrepreneurship in the Kingdom through improving the winners skills by providing them with continuous training sessions lead by successful entrepreneurs. The award gives the winners the resources and means of support that help them to succeed and develop their projects through meeting experts and witnessing their inspirational ideas. It also aims to celebrate the entrepreneurial spirit and stimulate innovation across all business sectors to achieve economic development within the framework of the Kingdom's Economic Vision 2030 to promote entrepreneurship.  
The prestigious award also aims to support the growth of this budding sector including the growth and development of SME's as well as paving the way for strong partnerships between the public and private sectors. The selection criteria employed the highest standards and practices to ensure fair competition and equal opportunities among the participants across all stages of the award.
Tamkeen is a semi-governmental organization in Bahrain, established in 2006 as part of the country's national reform initiatives, and is committed itself in positioning the private sector as a key driver of the Kingdom's economic vision by providing a full range of services to individuals and companies and raising the standard of living and creating jobs and investments in the Kingdom, as well as believing in the importance of creating an incubating environment that provides the necessary tools for the growth and prosperity of local enterprises
It has launched over 200 programs and initiatives focused on areas such as funding and financing, skill and career progression, customized employment schemes, and entrepreneurship exposure, amongst many others.
Tamkeen plays an impactful, distinct and critical role in the national economic development's landscape, having served over 140,000 Bahrainis and businesses.