Wouldn't it be nice to wear something, perhaps a bag, or an earring, that's produced locally, here in Bahrain? Even better and more empowering? When it's by a Bahraini woman. It might be rare, or never heard of, but these brands actually exist, and we'd like to share them with you. This is why, we at Startup MGZN took it upon ourselves to compile you with a list of brands that are owned by Bahraini female entrepreneurs.
We even sneakily asked our community about their favorite Bahraini brands, where we leafed through the ones that were owned by Bahraini women. You can join the conversation here.
Anyhow, here are 20 brands that we're proud to say are launched and owned by Bahraini women:
Noon By Noor is a Bahrain based womenswear label founded in 2008 by designers Shaikha Noor Al Khalifa and Shaikha Haya Al Khalifa. Their designs have been worn my various celebrities such as Jennifer Lopez, Alexa Chung, Kate Bosworth, Poppy Delevingne and more. Noon By Noor were even named by Elle.com as one of "The Breakout Talents of 2013". The brand can be found at Saks Fifth Avenue Bahrain, By Symphony Dubai, Tryano Abu Dhabi, Harvey Nichols Riyadh, Eastway Market Riyadh.
Launched by Sofia Al-Asfoor, the founder & designer of her luxury designer handmade luxury bags and accessories. She studied at the London College of Fashion Cordwainers Fashion Accessories programme, where she learned how to design, construct, stitch her own signature bags. Ever since she was a child, Sofia would spent most of her free time painting or buying fabrics to make her own clothes, while cutting things up and sewing them back together. Growing up with passion towards fashion, this inspired her to launch her own brand, creating the shield collection, a range of designs from soft and sensuous skins, including the Classic Shield and The Exotic Shield, which Sofia described as "so luxurious they empower the mind, heart, and soul." Sofia's collections are available at Saks Fifth Avenue. You can also order her bags online through her website.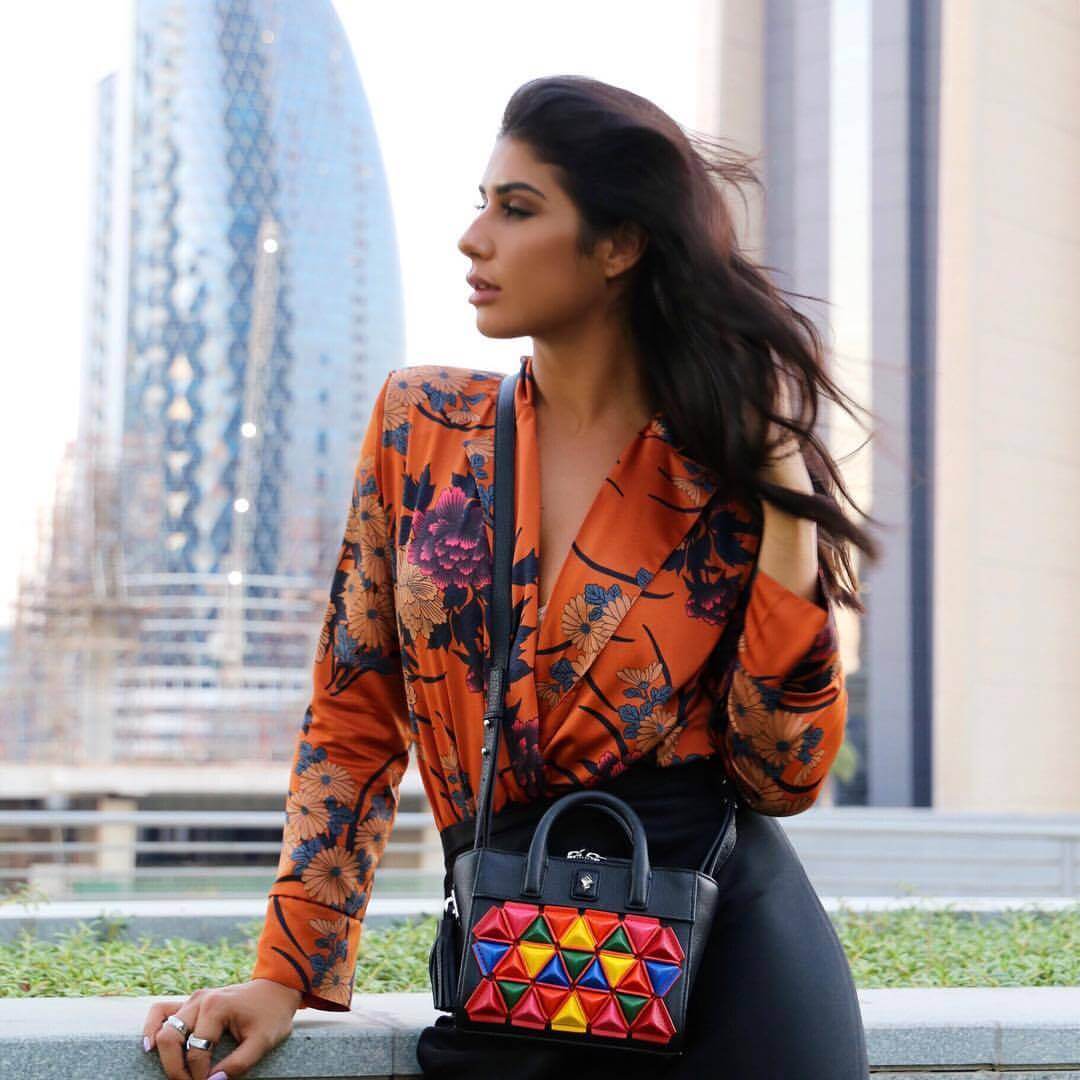 Launched in 2009 by Bahraini designer Noof Al Shekar, NS by Noof is a Bahraini luxury handbag brand, born out of Noof's fascination with fine art and design. Combining her love for art, jewellery and fashion, Noof started designing little jewel bags for herself and loved ones whilst pursuing a career in architecture. This swiftly gained her a fan-base, eventually persuading her to devote full time to designing her own bespoke collection hence the brand was born. Her collection uses the finest materials of exotic snakeskin, lambskin, alligator, and Italian leathers. They are also encased in 18k gold and platinum plated solid brass frames hand-crafted by skilled goldsmiths. Over a span of 10 years, NS by Noof went from a startup to business showcasing her line in Paris Fashion Week, London, Dubai, and was recently featured in British Vogue August 2019. Her bags are available at Saks Fifth Avenue, J Boutique in Moda Mall, AltaModa in Riyadh, and Pretty You in Monaco. You can check out her beautiful bags here.
By Aisha Abdulmalik, a Bahraini jewelry designer and owner of Aisha Jewels, a company focusing on the combination of 22k gold and 18k diamonds. Her designs are crafted by specialized craftsmen in both the Kingdom of Bahrain and in the Italian city of Milan. Aisha Jewels came into life after participating in Tamkeen's Mashroo3i competition in 2013-2014. She was also the winner of the 2017 Bahrain Award for Entrepreneurship for the Micro-Enterprise category. Aisha Jewels is available at Devji. You can see more of her designs at her Instagram page here. Check out our live coverage of Aisha Jewel's gold factory here!
A member of the Bahrain Art Society, Amina is an artist, and owner of Amina Gallery; a one-stop shop for art pieces and art inspired products. Her work is currently being sold at Harrods of London, and in her personal gallery in Riyadat Mall and Seef Mall in Bahrain, in addition to a number of retailers across the Gulf. You can check out Amina's work on her Instagram page or website.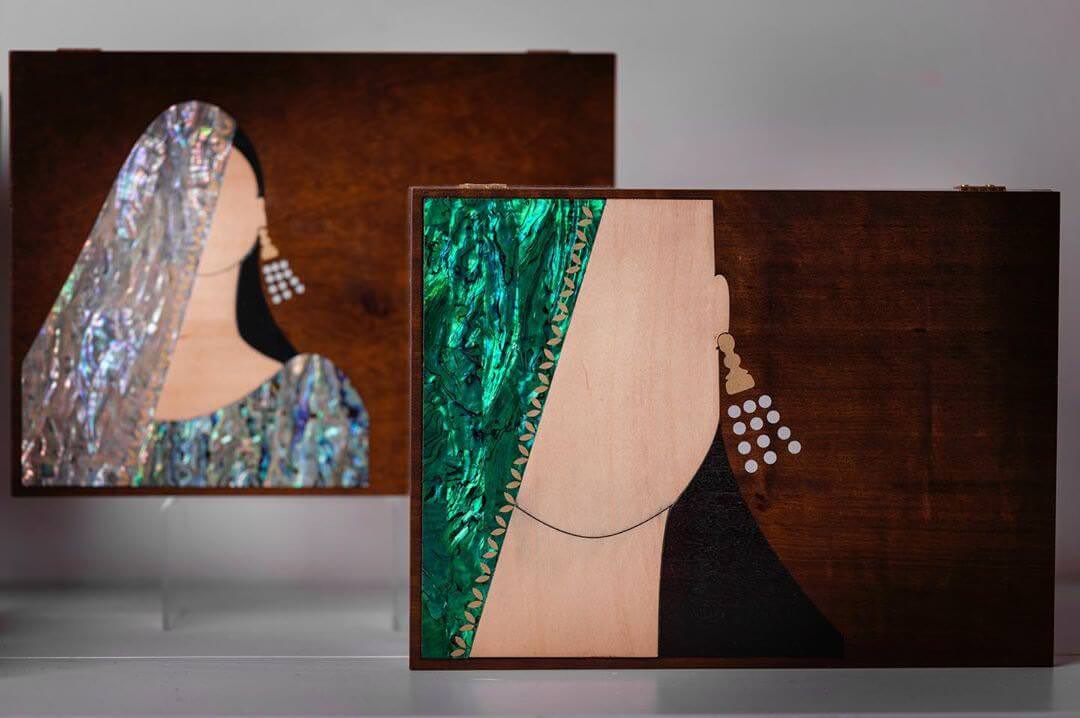 A luxury lifestyle brand by the sisters Nada and Noor Alawi. They partner with artists in Bahrain and design beautiful high-fashion scarves, clothes, and accessories that meld fashion, craft, and artistry, each of which tells its own story of beauty, color. Annada has been featured in international exhibitions previously. They also work directly with businesses and corporations to create custom products according to their needs. You can check out Annada's beautiful scarves in their store in Seef, and you can also shop online on their website here.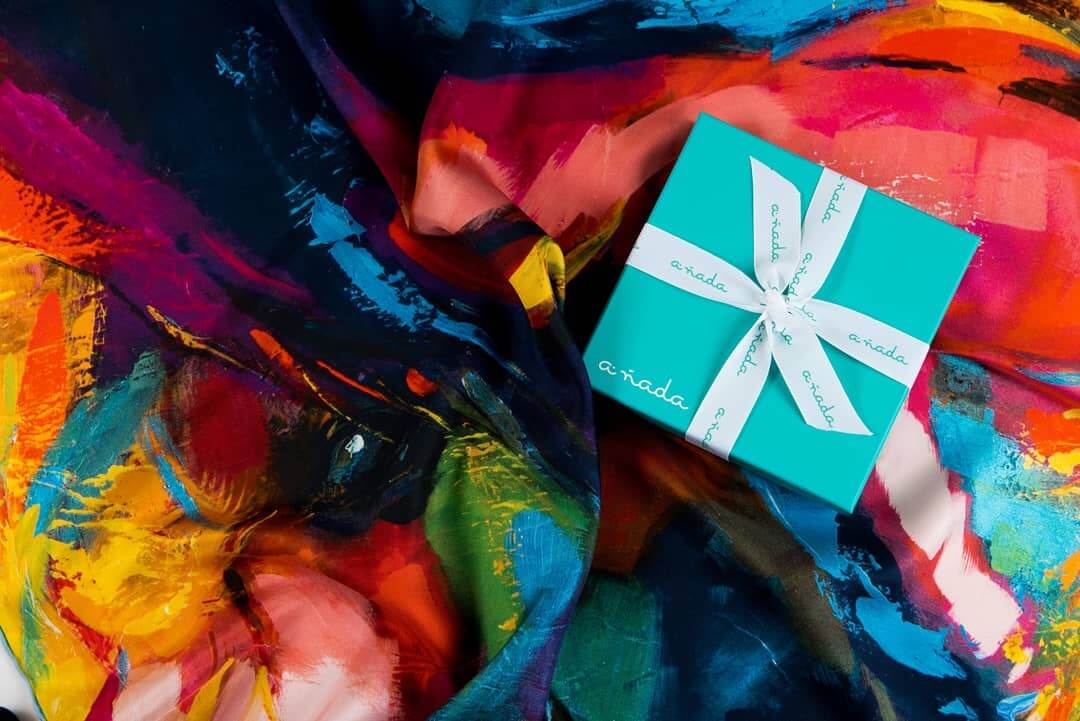 A clothing brand owned by Bahraini designer Hala Kaiksow. She creates custom hand woven fabrics, uses natural dyeing techniques and handmade buttons and fasteners. Hala is inspired by the beauty found in everyday objects and a has a utilitarian approach to dressing. Her designs are influenced by the past and present which helps her create clothes that are infused with feminine strength. Hala weaves materials such as raw linen, silk, and help into otherworldly patterns and textures, further embellishing them with fragments of metal, wood, latex and mother of pearl. You can find out more about her designs on her website.
A sustainable fashion line launched by Rawan Maki with a debut on the runway in New York in April 2017. By August 2017, the label launched as a ready-to-wear line in London. Rawan Maki Design House is the brand that combines stand-out silhouettes with sustainability principles. The designer Rawan, combines her environmental engineering background with fashion design and creates each piece as a "system", both aesthetically and in terms of zero-waste design principles. The aesthetic of the brand is avant-garde, with bold details, maintaining a focus on craftsmanship, meticulous design, and statement silhouettes. Rawan Maki was dubbed the "Arab world's first sustainable fashion designer" by Vogue Arabia, and since the brand's launch during NYFW 2017, the fashion label has received global acclaim for its ability to combine stand-out silhouettes with sustainability principles. Rawan Maki's collections are available globally at her website here.
Launched by the sisters Dana and Hala Zubari, Tru Active is Bahrain's 1st and leading activewear brand with an Arab twist, whereby their clothes are designed with beautiful and intricate Arabic calligraphy. The brand was inspired by combining Dana's passion for sport, Hala's background in fashion, and their father's hand in Arabic calligraphy. Working out has never been this stylish and comfy, thanks to Tru Active. You can now get your own by shopping online on their website here.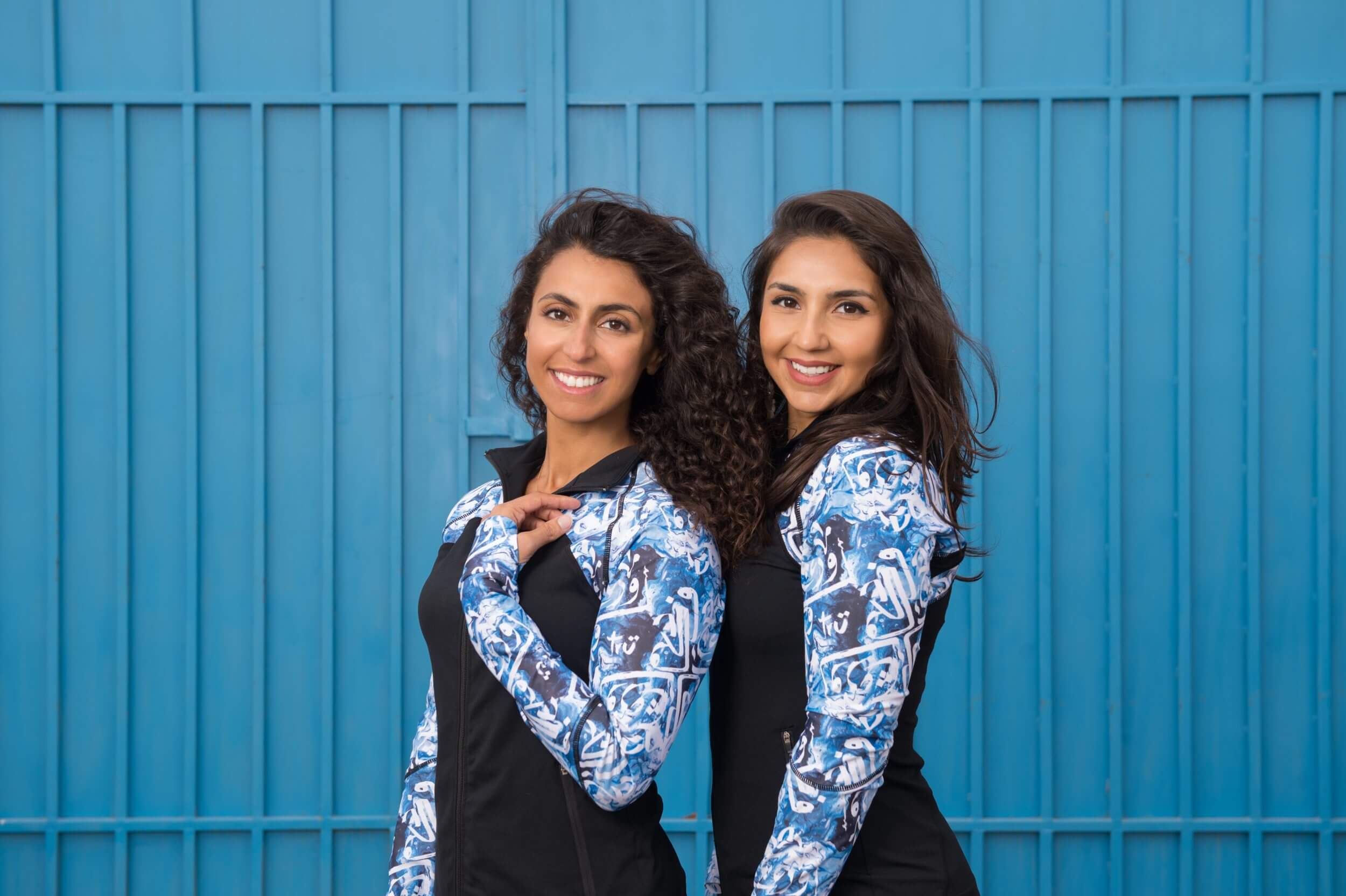 If you're a fan of chocolates, then you're going to love the fact that this brand is actually owned by a Bahraini female entrepreneur. Founded by Sonya Janahi, Maya La Chocolaterie was the first Bahraini chocolate brand to launch in Bahrain. Not only is it a nice comforting place to chill with your friends and cry your eyes out over chocolate fondue because your crush hasn't replied to your messages, but it's also awesome if you'd like to gift your colleagues or boss with a box of delicacies. Tip: Get their Spanish hot chocolate! It's heavenly!
To all the vegans out there, this one's for you! Founded by May Mahmood, Founder of Bare Chocolates, the Middle East's first artisanal chocolate bar. May grew up around Tariq Pastries, her family business, where it gave her a taste for fine ingredients and unusual flavor combinations. She also lived in Paris where she trained as a pastry chef at the Cordon Bleu and realizes how food can serve as a bridge between cultures. Bare Chocolates, was May and her brother's dream, where they wanted to create the Middle East's first organize and fairtrade chocolate bar. The siblings' founding principle is to produce the finest artisanal chocolate bars in the region in an entirely ethical and sustainable manner. Bare Chocolates can be found in almost all super and hypermarkets, and cafes in Bahrain. You can also check out their Instagram page here. Our favorite is the Organic Dark Chocolate with Almonds – which also happens to be vegan!
Launched by Saraa Al Sharfaa at the beginning of 2018, Update is a fusion of traditional, hip, trendy, and bold, serving dates, chocolates, energy bites, florentine and more. With Update you get to impress guests with a variety of delicious selections that are out of this world. What makes her dates and truffles special is that they're stuffed with simple, yet special fillings that will have your taste buds soaring. These include saffron, pistachio, salted caramel, sea salt mocha, and more. We personally love their Ginger Caramel truffle! Grab a friend and go check out Update in Hala Plaza, Zinj. They even have a nice and casual seating with mouth watering and yummy treats! You can also check out our live coverage of upDate here!
13. Green Bar
Launched by Reem Al Khalifa in 2006, Green Bar is a modern Bahraini apothecary crafting botanical skin care with native medicinal plants. The company specializes in beauty oils that's carefully selected from a variety of exotic botanical oils. There are several beautiful adventurous stories behind every Green Bar ingredient as Reem maintains a personal fascination with the origin of her ingredients, and works tirelessly to source them directly from the historical areas where they grow, including Morocco, Sudan, India, and more. You can check out the Green Bar products at their shop in Riyadat Mall. Thy also have a Green Bar cafe that serves delicious healthy food!
Launched by Mai Al Moayed, the Makeup Manual first opened as a makeup store and studio (which has now has evolved into a beauty salon and spa), until Mai decided to launch her own products that are now sold all over the GCC. Some of her products include the Wipe Off, the Pro Blender, the liquid matte lipsticks in 8 shades, Oud Hair Mist, and more. We personally love her Pro Blender and Gypsy lipstick – which is also great for an everyday look, or if you want to rock out that no-makeup makeup look. The Makeup Manual is located in Segaya Plaza, and you can check out and order their products online via their app, or have it delivered through Carriage or Wasel.
15. AH by Azhar Hubail
Launched in 2013 by the makeup artist Azhar Hubail. She began her makeup career in 2005 under the renowned international makeup guru Ahmed Koubalsi in Lebanon. She worked with a variety of luxury retail brands for both fashion shows and photo shoots including Marc Jacobs, Fendi, Prada and Annada. We personally love their Macchiato lipstick, which you can wear everyday and anywhere. You can check out Azhar's products at her shop in Riyadat Mall, and you can even order her products through Carriage!
Beauty has never been more simple with natural products! Founded by Jenan Alhashili, alongside her partner, Yusuf Buheji, Omni Skincare is an all natural skincare line products made in Bahrain. It was launched in the beginning of 2019 with the ethos that anything you'd put inside your body in some way, shape, or form, then you should use it on the top of your skin. Their products are all natural and clean, with no synthetic fragrances, parabens, or preservatives. You can order their products through their website here. We personally love their magical blue serum Nox and rose quartz roller! If you want to know more about them, check out our live coverage of Omni Skincare here!
A skincare line with awesome products that are handmade, and made out of natural and organic ingredients, made in Bahrain by Bahrainis. Launched by Sara Shehab in 2016, Body Jar came to life after the founder wanted to create something that can substitute the toxic chemicals found in many cosmetic products. She embeds organic and natural compositions, that do not only protect the skin on the long run, but also benefit it. Body Jar also participated in the 4th edition of Tamkeen's Mashroo3i competition where they secured the second place. The Body Jar also does customized orders and provides the customer with a variety of fragrances that they can choose from, and deliver it to the right where they are. You can check out Sara's products on her Instagram page here.
Established in 2015 by Nouf Faisal and Amna Ahmed, Mashoom is a local Bahraini natural beauty products business. For those who don't know, mashmoom is a traditional plant used during special occasions. "We wanted to incorporate our culture and make it trendy at the same time," the founders share, hence the name Mashmoom. The idea of Mashmoom came to life when the founders wanted to buy organic skincare products, and realized there weren't much in Bahrain. Mashmoom produces a variety of organic beauty products such as body scrubs, bath salts, massage oils, homemade coconut oil, aloe vera oil, face masks, pillow mists and a lot more! If you're having a party or a baby shower anytime soon, it's the perfect giveaway to impress your guests with! You can check out Mashmoom on their Instagram page here.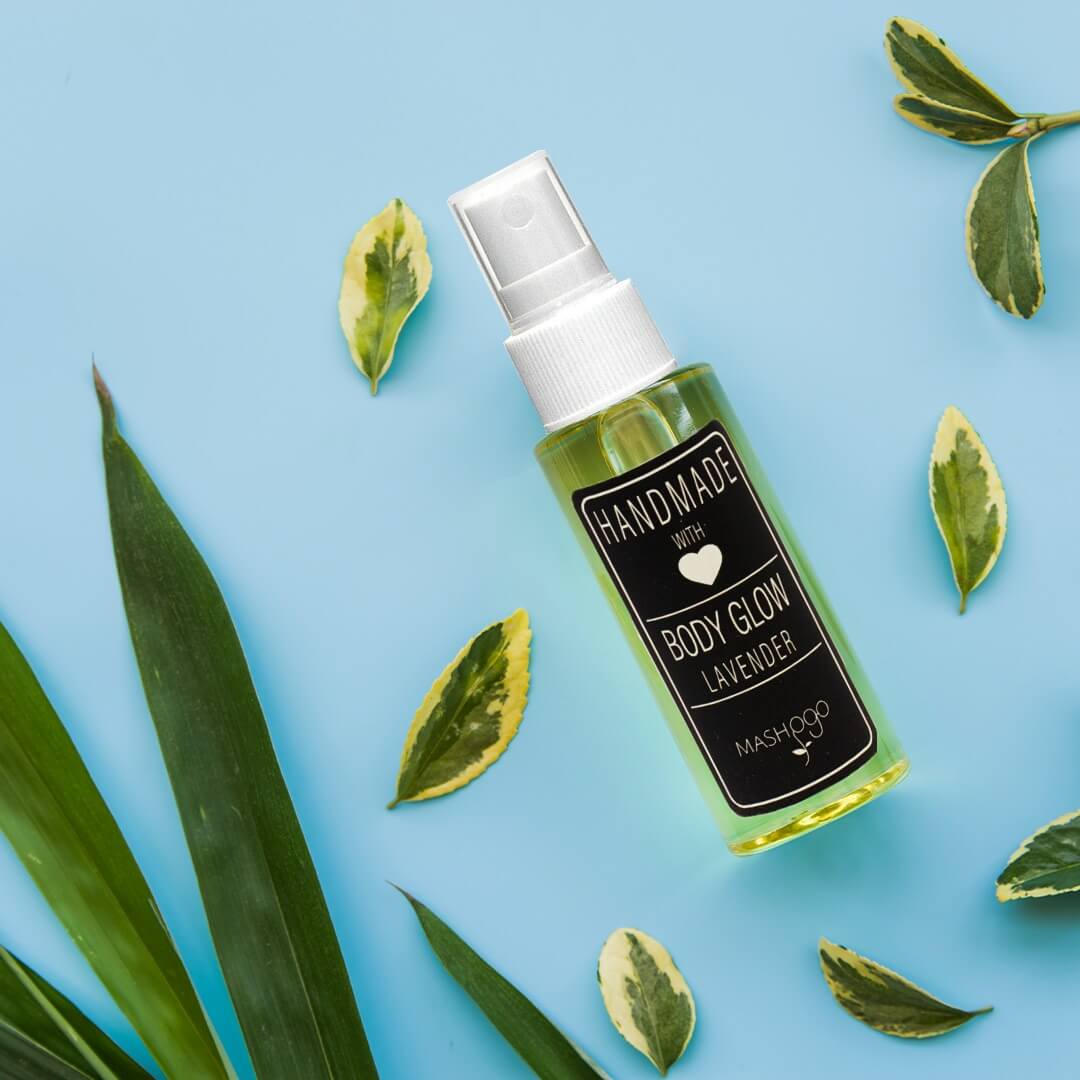 19. Sensationbyfj
Launched by Fatima Janahi, Sensationbyfj is a passion driven Bahraini brand for handmade well-being natural products based on a combination of Aromatherapy and Ayurveda. They offer customized products and services based on Aromatherapy, Dosah "Body Elements as per Ayurveda" and Chakras "Energy Centers". Their products include skincare, haircare, hygiene and energy. Fatima Janahi is a Certified NLP practitioner from The American Board of NLP, holds Ayurvedic Massage, Spa Products Preparation certificates from Malewana Sri Ganissara Ayurvedic Medical College in Srilanka. She also holds certificates in Reiki from The International Reiki Jin Kei Do Center, Pythagorean Numerology level 3 practitioner certificate from IPHM Holistic Accreditation Board with a background of hypnosis and Astrological Moon Sign analysis. You can check out her products here.
A fan of collecting cute pins? Qaalaam is the right place to check out! It all started when the founder Haya AlThawadi, decided to turn her hobby of collecting pins from all over the world, to a business that is specialized in creating unique high quality Bahraini-centric pins – ones that have local slang, landmarks, and special characters. "In Qaalaam we aim to empower Youth artist in the region, by spreading their art through our products. And we promise to provide high quality products with unique concepts and reasonable prices," Haya shares. Our personal favorite, if not obvious, is the feminist pin! Later on, while helping out her friends, they collectively created Seen Sox, a sub brand of Qaalaam that makes customized colorful socks and other trendy products. You can check out Qaalaam here, and Seen Sox here.
We're pretty sure that there are way more brands that are owned by Bahraini women. Do you know any of them? Why don't you share them with us on our Twitter, Instagram, Facebook, and LinkedIn.